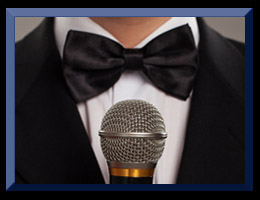 Fundraisers, Award Ceremonies
Choosing the right partner for your Fund Raiser or Awards Ceremony is vital to bringing your vision to reality. We will work with you as a member of your team to cover all details of your event. You want a professional look, no matter your budget. We can help you maximize the look of your show with the budget you have. Whether it's a formal dinner for 1,000 attendees or a fun awards event for your employees, we can deliver a polished look and
sound to your event.
Remember, we don't need to split our profit with the venue, so we can afford to carry that savings on to you so you can afford to upgrade that dinner or splurge for the better venue.